Current Gallery
 Things are picking up!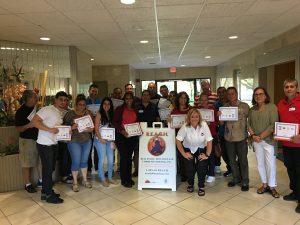 The May 7th Kendall/Miami First Time Home Buyers class was filled to capacity. The photo is of the class. Better register before classes fill up
R.E.A.C.H. and Wells Fargo held a joint event on Saturday June 11, 2016 titled "Get ready to buy a home". People from both R.E.A.C.H. and Wells Fargo spoke on the requirements to obtain a mortgage along with the R.E.A.C.H. educational offerings. After the speakers potential home buyers met individually with the employees of R.E.A.C.H. and Wells Fargo to discuss their individual needs. From left to right in the photo: Patricia Tracey, R.E.A.C.H. CEO, Isaul Gonzales, My Home Inspection Group and Gabriel Silva, We Insure Group.
---
REACH out -We'll R.E.A.C.H. back!!