I would like to just give a huge THANK YOU to Luisa Scotland with the REACH housing program and Detra Smith. They helped me to accomplish buying a house in the neighborhood that I grew up in South Tampa.
With the cost of housing skyrocketing, never in my wildest dreams could I believe that I would be able to purchase a home in the place that I loved. We thought that we would have to move away from the area that means so much to me and we would be renters until we died.
I just want to thank the ladies for their kindness, for dealing with my insecurities when I thought it wouldn't happen, and for their patience with me. They were both a pleasure to work with and allowed me to "Dare to Own the Dream" of homeownership. We were so happy when we closed that we painted the entire house and made it our own (see pictures below). After all, it is our home now! Thank you again ladies and thank you for having a program that allows people to become homeowners in our beautiful city.
With much appreciation,
Lisa and Craig Yeager
Before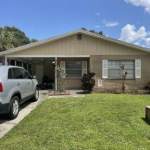 After